Kitchen Basics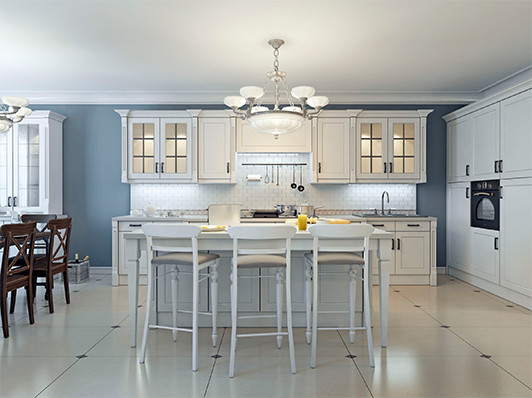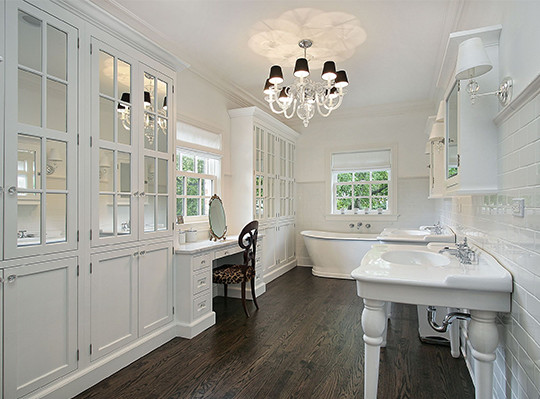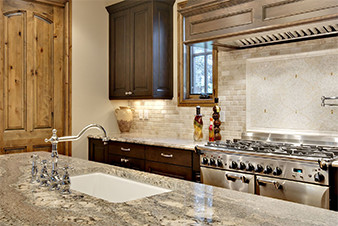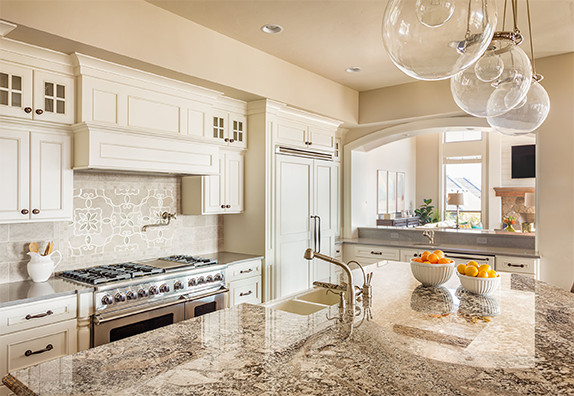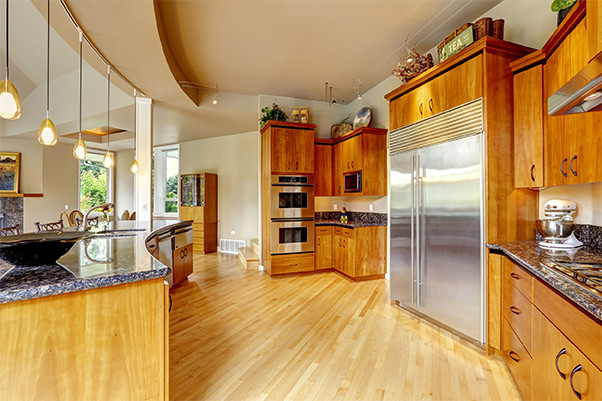 Kitchen Basics
Space planning in a kitchen requires a significant amount of pre-planning. So many aspects have to be taken into consideration: workspace layout, plumbing and appliances, countertops, safety, seating and storage. A committee of experts at the National Kitchen and Bath Association have put together guidelines to consider when planning your new space.
As members of the National Kitchen and Bath Association, our designers are trained to look for these details. Using a designer like Regent Flooring, Kitchen and Bath is sure to save you time, money and headaches from regretful decisions.
Before beginning the process, it is helpful to analyze what features have been successful in your past kitchens as well as what features where not successful. Often, identifying what doesn't work can help pave the way for solutions that will be more efficient and successful in your next kitchen.
Design and Layout Considerations:
Doors
Doorways should be a minimum of 32" wide
Make sure doors do not interfere with other doors, cabinet doors or appliances
Consider using sliding doors or pocket doors
Space Considerations
Kitchens should have three work centers – food storage and prep, cooking and cleanup
Distances between work centers should be no more than 9' and no less than 4'
Full height obstacles such as refrigerators or tall pantry cabinets should not separate 2 primary work centers
No traffic patterns such as walkways or hallways should cross through the "kitchen triangle" The "Kitchen triangle" is the straight line drawn from the center of the sink to the center of the cooktop to the center of the refrigerator
Work aisles should be between 42" and 48" wide
Sink Placement
If there is only 1 sink, place it adjacent or across from the cooking surface and the refrigerator
Allow at least 24" of space on one side of the sink and 18" on the other side to allow for clean-up and sink prep.
Imagine a sink full of dishes and the room needed to spread out and dry them or to set a dish rack
Auxiliary sink or prep sink – allow at least 3" of countertop on one side and18" on the other side
Note: Secondary sinks are great if there is more than one cook in a household!
Cooking Surfaces and Microwaves
Allow at least 12" of space on one side of the cooking surface and 15" on the other
For cooking surfaces in the island, the countertop should extend at least 9" behind the cooking surface if the countertop stays at the same height as the appliance
Allow 24" of space between the cooking surface and a protected non-combustible surface above it. Add 6" more if the surface above it is unprotected/combustible
For microwaves above a cooking surface, check the manufacturer's recommended spacing
Remember all cooking surface appliances need proper ventilation
Consider the height of the person using the microwave. The ideal level for the microwave should be 3" below the principal users shoulder, but not more than 54" above the floor.
Consider placing the microwave below the countertop. The oven bottom must be at least 15" of the finished floor
15" of landing space is needed either above, next to or across from the oven to set hot items. Space should be no more than 4' across from the oven.
Oven should not open into a walkway
Dishwashers and Refrigerators
The dishwasher needs to be within 36" of the closets edge of the nearest sink
Allow at least 21" of standing space between the dishwasher and any cabinets/countertops that are set at a right angle to the dishwasher
Allow at least 15" of resting space adjacent or across from the refrigerator
Other Considerations
Seating Areas

A Seating area with no behind traffic, allow 32" of clearance from counter/table edge or wall or other obstruction
A Seating area where someone does pass by, allow at least 36" for someone to edge past and 44" for someone to be able to walk past
Allow 24"width per person

With today's focus on green and increased waste for families, consider 2 waste receptacles, with at least one located near the sink / prep area
Check local building code for placement and quantity of all electrical receptacles and GFCI protection
Make sure all work surfaces have the appropriate task lighting
Remember, these are guidelines and every kitchen and cook is unique. The staff at Regent Flooring, Kitchen and Bath and the knowledge and experience that will help you design the kitchen that will work best for you and your lifestyle.