Bathroom Tile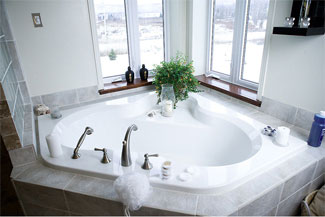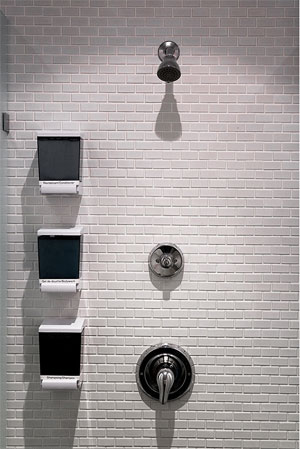 Wether you are doing a full bathroom renovation or just updating a few key elements, it all begins with the tile selection. Your tile selection will set the tone for the entire room.
Tile comes in textured tumbled looks, smooth linear patterns, cement tiles with bold colors and designs, larger hexagons and elongated subway sizes.
Trends in Tile Sizes and Layout
The trend is towards larger format and plank size tile.

Wood-look porcelain tile is a great alternative to real wood in a bathroom as it will hold up to the moisture and humidity.

Pairing different size tiles will give an added dimension and impact to the room. This can be done by choosing a feature wall or creating a framed area with different tile inside or by simply adding a border or two. A popular choice for accents in the room are metal and glass mosaics

Whether it is a porcelain tile that resembles a natural stone or the real thing, this is a classic clean look that never goes out of style.
Special Considerations:
The size of the shower floor tile will depend on the type and size of the shower drain you plan on using. Larger format tiles require a linear drain. The more traditional route is a smaller center drain. To properly pitch to a center drain a tile size of 4x4 or smaller is needed. Consider using river rock instead of tile, it looks amazing and feels great under your feet too!
Coordinating solid surface or stone materials can be used in Showers and tubs for seats, shelves or recessed niche surrounds. Using these materials will eliminate grout joints in these areas and allow the material to be pitched so water runs towards the drain area.
Many tiles can be used for both the walls and floors. Consider the texture of the tile for placement. A glossy smooth tile can be slippery on a bathroom floor.
Once you have selected your tile, grout and layout, you can begin to select the other room elements. Let the experienced design specialists at Regent Flooring, Kitchen and Bath show you how to turn tile into a work of art.